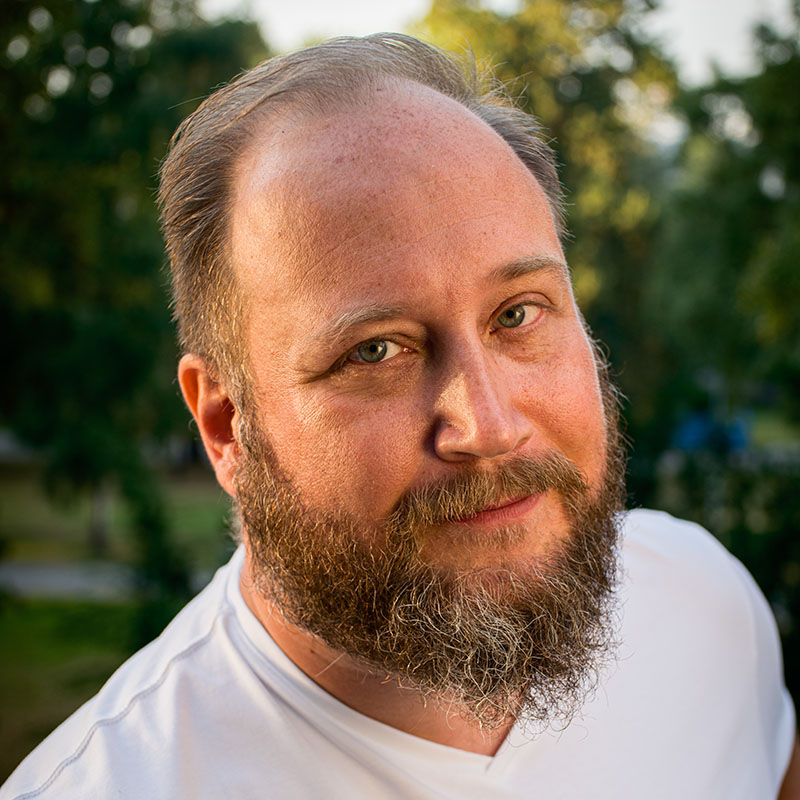 Teemu Eskola
Creative, strategist, copywriter, coder
A marketing mind with miles. Concept design, development and consulting. History in ad agencies and digital consultancies and a few startups.
The clients trust me, I see marketing as a systemic function and I read data fluently.
Work experience
I've worked on parallel positions, epecially in startups, and I've always saved time for freelance and consulting work. Traditional, linear work experience listing doesn't really do justice for my work history, but what can you do?
2016 >
Advertising agency Smoy
Creative, CDO, executive team
Brand and campaign design as a copywriter and a digital specialist. Responsible for strategy work for Smoy's client projects and improving the company's creative excellence.
Clients: Svea Bank, Bridgestone, Nordea, Recion, Nordea
2008 >
Freelance consultant
Concept designer, strategist, coach, lecturer
I help companies with their marketing challenges from brand strategy to marketing channels and developing their processes and teams. I consult, coach and train. Idesign brand stories, concepts, content and stupid puns. 4/10 of my clients are in Finland, the rest all around the globe.
Clients: United Bankers, Oivan, DeLaval, Skoda
2015-2019 >
Cleac Ltd
Head of Marketing, member of the board
Growing a music education startup and taking it global. My responsibilities included developing the company story, marketing, advertising, PR and channel marketing.
I opened the US markets for the company, ran an investment round and roadshow and finished by negotiating the sale of the company tech to a telecom operator.
2014-2016 >
Rounders Entertainment Ltd
CMO, member of the board
Creating the company story and digital products, as well as managing investor communications. We got several products out and ran a successful investment round.
2013-2015 >
Balboa Ltd
Creative, director
I lead the design, planning and service development of the company. Balboa was a digital spin-off of advertising agency Rocky and was eventually absorbed by the parent.
Clients: PostNord, Ifolor, GSK, Leiras, MudiPharma
2011-2013 >
Into-Digital Ltd
Client director, executive team
Responsibility of ~30 accounts, their teams and project managers. In addition, I worked as a digital media expert and developed the company's services and expertise. Work biased towards mobile experiences, augmented reality and digital strategy.
Clients: Metsä-Tissue, TBWA, Taivas, R-Kioski, Kiasma, TUI
2010-2011 >
Simpler Finland Ltd
SEO, strategist
Development of three products and one business concept, including marketing and sales planning and building a partner network. Also, some marketing strategic consulting for the parent company.
Clients: Telia, Olvi, STT
2008-2010 >
McCann Helsinki Ltd
Planner, creative
Strategy and concept design as well as planning for Finnish and international clients. Also, some digital marketing consulting and a dash of account management.
Clients: If, ExxonMobil, L'Oreal, Microsoft, Mastercard
2001-2008 >
Cubolahead Ltd
Creative, consultant, coder
Consulting for a wide range of clients, with a bias on cosumer campaigns in the digital and mobile media. Advertising concepts and strategies.
Clients: Peugeot, Unilever, Sinebrychoff, Seat, Tieto, Sanoma
Public speaking and training
I've been on the podium, both on national an international conferences and events. A few keynotes to mention:
NORDEFCO Advanced Distributed Learning conference: Future of communications
European Conference on the Future Internet: Marketing for startups
Week of marketing: Digital mythbusters
Over 100 training sessions as a lecturer. Including these:
University of Helsinki: guest lecturer, pr and communications
Metropolia Uni. of Applied Sciences : guest lecturer, social media
Omnia: public lecture, algorithms and AI
Marketing Institute: lecturer, marketing
MTL: lecturer, managing digital marketing projects
Awards
Yes.
No lion from Cannes, but most of the smaller ones I have. I was on the national jury of Effie Awards.
Education
2022 >
University of Jyväskylä, Creative writing, bachelor of arts
2018–2019
Columbia University, MM, Artificial Intelligence
2013
MPK, Cyber security
2004
Finnish Entrepreneurs, Financial management
1995-2000
University of Helsinki, Computer science
In addition, some Google certifications and miscellaneous courses on music, marketing and mathematics.
Languages
Finnish & English: able to work as a copywriter and not be ashamed of it
French & Swedish: understands some of the emails
Japan & German: survives as a turist, barely
Affiliations
Finnish marketing association, member of the board of digital excellence. Chairman of the board of Boston Promenade, 2019 Effie Finland juror.
Miscellaneous stuff
Music: if you're a Finn, you've seen me on TV or on festival stages, playing the trombone or the keyboards.
Drone show designer: I'm one of the most experienced drone show designers in the world. It's not a long list, but I'm on it.
I lift weights, bake breads, play with my kids and read.